Our quiz nights are a cut above the rest!
Hosting traditional style quiz nights, video quizzes, and the new smartphone quiz.
Few people have the time and energy to prepare and also present quiz nights. That's where Xplosive Entertainments come in, we provide professional quizzes for everyone.
Our quiz nights are not only great, but very informative and great fun as well! We prepare each quiz event with questions to suit, this will ensure that it is exciting and entertaining for all participants.
We are not interested in catching anyone out, we want you to be able to answer our quiz questions!
Nobody enjoys a quiz if the questions are too hard, our questions are carefully thought out so that the answers are right on the tip of your tongue, they will make you dig deep into your memory bank and make you cheer out loud when you get it right!
In team events it can be very satisfying to watch group discussions which invariably end up with a vote on who's right. On the other hand if you don't get it right you will be kicking yourself when you hear the correct answer because you knew it really. What ever the question is though you will find yourself waiting for the answer with great anticipation.
Our video quizzes utilise screens already in the venue or our mobile large screen displays and/or projectors to display the questions and video clips. This style of quiz gives your customers a better experience and more interaction.
Our standard and video quiz nights can both have music rounds added, as all our quizzes are presented using a sound system to ensure your customers can hear the questions.
All paper, pens, scoring and audio equipment supplied - in fact everything is done for you!

We also have the more interactive 'fun' nights like Paul's Play Your Cards Right, Take Your Pick, Wheel of Fortune, Booze Bingo, Race Nights, and Casino Nights.

SpeedQuizzing
The SpeedQuizzing system has changed the way people today approach quiz events, but more specifically it has enabled the Great British pub quiz to evolve into something new. Gone is the slow pace. Gone is the cheating (that has undermined the integrity of pen and paper pub quizzes for many years) and the days where quiz contestants actually have to mark each other's question sheets is thankfully also now a thing of the past.

SpeedQuizzing's quiz game software heralds a new age of high-energy smartphone pub quizzing where the fast-paced game style takes trivia nights to new heights while ensuring it is impossible to cheat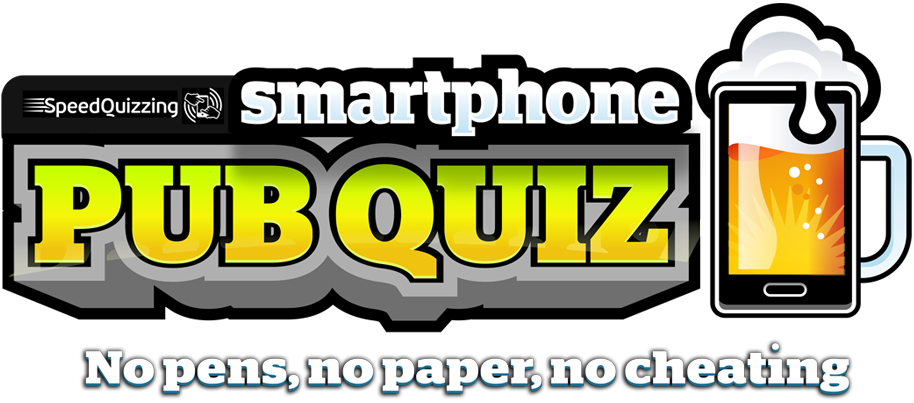 As each quiz is different, please call for prices as we price on type and location.